VMATYC Visions

The newsletter of the
the Virginia
Mathematical
Association of
Two Year Colleges

VMATYC home
As you know, VMATYC is a state affiliate of AMATYC, American Mathematical Association of Two-Year Colleges. If you are not currently an AMATYC member, I hope you will consider joining. There are many benefits of being a member of a national organization in your professional field. Check out the website at www.amatyc.org for information on the national conference, which will be held in Washington, DC, November 20 – 23, 2008. This is an opportunity for us to attend a national conference without the expense of long distance transportation. Many VMATYC members are already assisting with the conference arrangements.
Our 2008 Spring Conference team, headed by President-Elect Ann Loving and site coordinator Jon Hexter, is busy planning our 22nd annual conference to be held on April 4 – 5 at Piedmont Virginia Community College and the Comfort Inn Monticello. More information on this conference can be found elsewhere in the newsletter. Make plans now to "meet us in the middle" in Charlottesville.
Many thanks to those of you who serve as campus contact persons for VMATYC. This allows VMATYC to distribute information to each of the twenty three VCCS community colleges. Another way to share information is through the VMATYC listserv. If you are not receiving e-mails on various topics through the listserv, contact Jon Wilkin at jwilkin@nvcc.edu to have your name added to the list. Remember that a click of the "reply" button responds to the whole listserv, so you should be sure you have a public, instead of private, message.
I look forwarding to seeing you in April in Charlottesville!
The Spring VMATYC Conference at PVCC
Piedmont Virginia Community College will be hosting the Spring, 2008 VMATYC Conference on April 4 & 5 in Charlottesville. Conference planning is almost completed. There will be many presentations and round table discussions from which to choose. At the Friday evening banquet, Susan Wood will deliver the keynote address.
At this time you can register for the conference and reserve your room at the Comfort Inn Monticello, the conference hotel. If you didn't know, the entire conference offers lots of bang for the buck. The registration fee is $35, with the banquet included in that charge. For VCCS faculty, the VCCS pays half the room charge for Friday night. You won't find another quality conference at these prices.
For conference details and registration forms, click here.
VCCS Course Description Review
As a result of the fall regional meetings and inquiries from regional vice presidents, names have been received of several VMATYC members who are interested in working on the Course Review Committee. This committee will act as a steering committee to review and make the initial recommendations for change/no change in VCCS Math course descriptions. This is a task each peer group is asked to do; the VMATYC conference is recognized as the VCCS Peer Group meeting for Math and Computer Science.
Dr. Bill Hightower, VCCS Director of Educational Programs, will present an information session on Friday, April 4, as part of the VMATYC conference. There will be a session scheduled for Saturday to invite all interested persons to attend a "brainstorming" session as part of our work. I am in hopes there will be enough volunteers that we can divide into groups as Dr. Hightower has already suggested, and each group be responsible for carefully reviewing only a section of the courses, such as developmental, statistics, technical, pre-calculus, calculus, etc.
It will be very helpful to have guidance and input from Dr. Hightower to help us through the process although I will be contacting individuals whose names I have received to begin our process prior to the conference. Every VCCS faculty member will have an opportunity to share thoughts and ideas with the committee throughout the process so that any changes are made in agreement with the majority.
I hope you will plan to attend the spring VMATYC conference, make an effort to be there for the information session on Friday afternoon, and be willing to serve on the committee to review the courses. If you have not already volunteered, I would like to add your name to the volunteer list now. Email Linda Taylor at ltaylor@nvcc.edu.
AMATYC 2008 - Monumental Doings in a Monumental Place
Join us November 20-23, 2008, for the 35th annual AMATYC conference, making Washington, DC, a monumental place for mathematics! We know the conference itself will provide us with outstanding sessions and networking opportunities. With this event right next door, you won't want to pass up an excellent time for professional growth.
If you've never made it inside the White House, contact your Senator (www.senate.gov) or Representative (www.house.gov) to request tickets for a White House tour Tuesday through Saturday mornings. When making the request, you'll need to supply information on each guest for a security check. Notification that you have tickets will not come until the first week of November, but you have to ask for them at least six months in advance, so make the call by May 1.
You can also request your congressional office to arrange a Capitol tour. These are led by someone from your district to personalize the experience. You can also get help with a visit at the Bureau of Engraving and Printing, the State Department, and the Voice of America offices and studios where you can perform in front of the blue screen. These are just a few of the sites you might want to visit; all of these are easily accessible via Metro.
With so much to do in Washington, bring your family and arrive early or stay late Getting around town for you and your guests will be simple with the Washington Hilton Hotel just a few blocks from the Dupont Circle Metro station.. For those who accompany you, make sure they come to the Hospitality Room Thursday, November 20, at 8:15 a.m. for our session "Making Connections: Families and Friends." Ann Loving and her Professional Networking Crew have several other special gatherings planned, including an informal Thursday evening with cookies, hot chocolate, games and CDs, where "Fuzzy Slippers and PJS are Welcome." There will also be a Saturday afternoon scavenger hunt around the Mall with a mathematical bent thanks to Randy Pittman and Kathryn Swadgelo.
Music and theater options range from Broadway caliber shows and the National Symphony at the Kennedy Center to excellent local bands and stage productions. As the November schedules are announced, look for updates on the Local Events pages through www.amatyc.org, and check for special AMATYC ticket offers.
Whatever your interests, Washington has a museum for you. Many offer free admission, but some require you to write for advance tickets. Many close in the late afternoon, so be sure to check hours to avoid showing up to shut doors.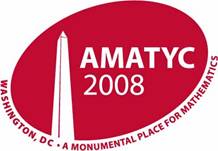 The American Mathematical Association of Two-Year Colleges
34th Annual Conference
Washington, DC November 20-23, 2008
Hosted by VMATYC, MMATYC, and the Mid-Atlantic Region
Featured Speakers
David Wright - Tidewater Community College
Physics is Phun: What do Beds of Nails, Balls of Fire, and a Leaf Blower powered hovercraft have to do with mathematics? Come see how much fun Physics can be, and get some great ideas for illustrations of applied mathematics.
John Adam - Old Dominion University
Mathematical Patterns in Nature: From rainbows, ice crystal halos and shadows to spiderwebs, cloud formations, and the markings on butterfly wings, the natural world is replete with patterns that can be described (and often explained) in mathematical terms. This presentation will introduce us to aspects of nature's beauty as revealed by mathematics.
Abigail Norfleet James - Germanna Community College
Gender Differences and the Teaching of Mathematics: The belief that women will have trouble with mathematics is not well supported and many women excel in a variety of math fields. A brief survey of recent findings in neurocognitive gender differences will serve as a basis for specific classroom strategies to help women succeed in math.
Freeman Hrabowski - University of Maryland
21st Century Math Education: Promoting Success AmongAll Students: Dramatic technological and demographic changes present America with enormous challenges for educating students in math in the new century. What will students need to know to succeed, and what skills must they possess? Additionally, what strategies and best practices can educators use to ensure success for all students in math?
Wearing a red vest at AMATYC 2008
I
The folks you see in the bright red vests are not necessarily trying to keep warm. They are members of the Local Events Committee charged with promoting and providing local flavor for the 34th AMATYC Conference, November 20-23, 2008, in Washington, DC. Over 40 AMATYC members from VMATYC, MMATYC, and the Mid-Atlantic Region have been working since 2005 to encourage you to attend this conference. Once at the Washington Hilton Hotel, you will find these red-vested hosts guiding you to rooms, staffing the Internet Café, and offering Professional Networking/Hospitality options.

In the picture with this article, Frank Borleske (LFCC) visits with an attendee in Minneapolis at our display table. Chris Allgyer (MECC) is working with his school to provide these and other signs for the conference.

Ann Loving (JSRCC) will be staffing the Professional Networking Room, providing a place to relax with colleagues and have some fun Thursday night at an informal get-together with games, CDs, cookies, and hot chocolate, where "Fuzzy Slippers and PJs are Welcome." Thursday morning there will be a session "Making Connections:Family and Friends", where our guests can get information about what's going on outside the hotel.

Susan Fleming (VHCC) heads up the Saturday Breakfast committee to put a local emphasis item on the table for each attendee to take home. Ask Linda Taylor (NVCC) what else might be on the tables. At 6 a.m. Saturday, Susan and Linda will appreciate your help in decorating these tables. Listen for their request.

We'll also have greeters stationed around the hotel's guest and conference areas to make sure attendees find the places they need to go. The scheduling of these greeters will be handled by John Gallo (TCC) and a coworker from MD.

These are just a few VA members of the LEC. We toured the hotel in July to get the lay of the land. We're sending the instructions about planes, trains, and automobiles that appear in the conference MiniProgram in August. When we find special AMATYC deals on theater tickets and other events, the information will go on our local events web pages through www.amatyc.org.

We're excited about this conference and we want to see all of you in Washington this Fall for a monumental time for mathematics – a slogan that originated in the VMATYC business meeting at Germanna CC two years ago!


A poster in Abode Acrobat format advertising the AMATYC conference is available by clicking here

It is that time of year again to reflect on the many good students we each have and select one to recommend for the Glenn Fox VMATYC Mathematics and Computer Science Scholarship. The application will be on the VMATYC website after spring break and information about it will also be enclosed with the conference packet for all attendees. The deadline for application will be May 30.

Perhaps we often think only of students we have during the spring semester. But what about the outstanding student you had in the fall semester? Perhaps he/she is in a math class this semester of a non-VMATYC faculty member. You need to do one of two things—encourage the current instructor to join VMATYC so they can sponsor the outstanding student, or contact the student for all the needed information and become the sponsor yourself.

We want to recognize and reward a deserving student who plans to major in mathematics education, mathematics, or computer science with $400 per semester during the 2008-2009 academic year. The 2008-2009 recipient will be recognized at the fall regional meeting and the sponsor will receive the traveling plaque to proudly display at his/her college during the year. The recipient will also be invited to the spring 2009 conference. The 2007-2008 recipient, Beihua (Endy) Yan, will be introduced and presented a certificate at the spring conference this April at PVCC.

The Scholarship Committee looks forward to receiving a number of applications this spring. Please make sure your outstanding student is among them.




As the VCCS reaches middle age we are seeing many faculty retire and many new faces replacing them. Please reach out to new math and computer science faculty on your campus and encourage them to join VMATYC. At just $10 membership dues are a real bargain. If you are registering for the conference, you can pay your 2008-2009 dues when you register. If you aren't going to the conference, the membership application can be printed from the website. To do so, click here.




The Eastern Region Fall Conference was held on the Parham Road Campus of J. Sargeant Reynolds Community College on October 26, 2007. Thirty-eight participants gathered on a rainy afternoon from both the Richmond and Tidewater areas. Three concurrent sessions were offered during three time slots from which attendees could select. Session topics included NCTM sharing sessions, PRISMM – Project for Retention and Increased Success in Mathematics through Modularization, the Virginia Coalition of Mathematics Program, "Monsters and Moonshine" dealing with abstract algebra, a sharing session on how to motivate students and a roundtable on Computer Science. The evening concluded with a dinner of assorted sandwiches, salads and desserts and a time to interact informally with colleagues.




The Western Region fall conference was held Friday, November 9, 2007, at the newly opened NRCC Mall Site in Christiansburg, VA. The 24 attendees were treated to a welcome by NRCC administrators and a tour of the new facility. After lunch, and short general meeting, Sylvia Brown of MECC gave a presentation on the new TI Nspire Calculators.




The Central Region fall conference was held at CVCC on November 9, 2007, with 24 attendees. There was a brief general session where information was shared on the upcoming AMATYC and VMATYC conferences. A review of the Host Institution responsibilities for a VMATYC conference was discussed since Central Region is to host the 2010 VMATYC conference. Afterwards there were presentations on: Eduspace, Hawkes Learning Systems, MyMathLab and WebAssign (Enhanced).

The Northern Region fall conference was held at the Glenns campus of RCC on Saturday, November 3, 2007, with 33 attendees. A welcome was provided from the campus dean followed by a short informational session in which Ed Anderson and Jon Hexter addressed the group concerning the AMATYC and VMATYC conferences coming up in 2008. Two breakout sessions included presentations by 7 volunteers (3 in the first session and 4 in the second) including:
Jon Hexter (PVCC)

"What Makes a Number Perfect?"

Lynne Ryan (BRCC)

"Talking Math – Accessible Mathematics for the Visually Impaired"

Karen Walters (NVCC)

"

Who's the Man?"
Emmanual Addo (RCC)

"

All You Need to Know About Pi"
Jon Wilkin (NVCC)
"Math Requirements for VA Teachers"
Don Goral (NVCC)

"Mathematical and Linguistic Threads: China's Silk Road and Beyond"

TJ Johnson (BRCC)

"Different Metaphors for Algebra"
After the sessions, lunch was provided by the RCC members and then the attendees broke out into different groups according to core subject areas for discussion. Many thanks to Nicolle Lee and the folks at RCC for putting on a great conference!